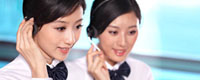 Name: Mr Steven
Tel: 86-0551-62658881
Fax: 86-0551-62658881
Mobile: +8618130083767
E-mail: info@supseals.com
Skype: weilianzh



Product name : Mechanical Seal Roten JR-R-2

Item : JR-R-2

keyword : Mechanical Seal Roten 2

Feature : Mechanical Seal Roten 2
Details:
DESCRIPTION:
Unbalanced mechanical seal consists of a mobile ring
formed in one piece with internal groove for O-ring,
simple, tapered and sense of rotation dependent spring.
The fixed part is O-ring.
It is particularly versatile and easy to assemble.
LIMITS OF USE
Depending on: diameter shaft, pressure, speed, temperature
and fluid seal.
p ≤ 16 bar
t = -35 ÷ 180 ° C
v ≤ 15 m / s
MATERIALS:
Metal parts: 316 stainless steel or special alloys
Mobile Ring: Stainless steel AISI 431, AISI 316, Stellyte
or tungsten carbide welded plate.
Stationary ring: normal, special or coal or metallic carbide
tungsten.
Seals: NBR, EPDM, FPM or FEP.